I'm going for it!
I told the guy who is selling the houseboat that I am interested today. He got my cell number, and his banker will give me a call. It's all in his hands now. I'm so excited I could just burst.
I talked to my current roommate last night about this potential move, and he was very supportive (which kinda surprised me). He said that he'd hate to see me leave, but I'd be crazy not to jump at it. That was a big load off my mind, as he's been really great in helping me get through a tough time. Now that I'm back on my feet, he's still behind me. That's a good friend there.
I still haven't figured out the whole "Internet Access" problem yet, but a few suggestions have been made. WiFi seems to be the most prevalent among them, but unfortunately it doen's seem like an option at this time. You see, the Marina that I will be staying at is kinda out in the sticks. The town doesn't even rate a stop-light, so there's not much in the way of choices for internet connectivity out there. I'll probably have to go the dial-up route for awhile until I can get an ISDN line dropped. Cable may still be an option, but I'll have to look into it. Noone else out there has any wireless that I can slurp off of, so that's out. I'll probably be the one who gets wireless in there, and then they'll all slurp off of me.
I decided to take a few shots while I was over there today so I can share with the class. Check it out: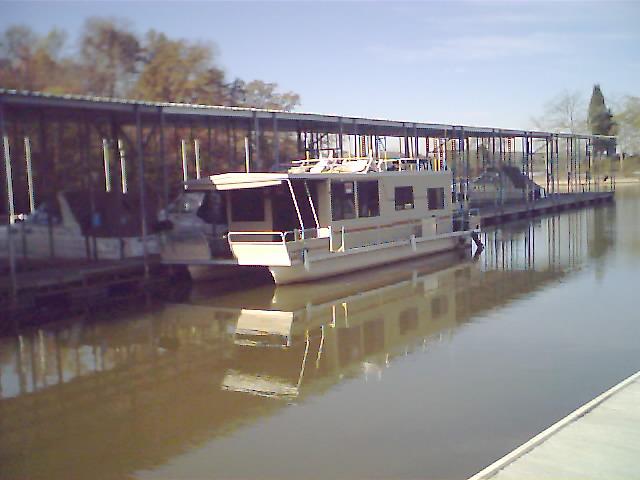 (Sorry Bou, nothing but the larger image when you click)
Here's another: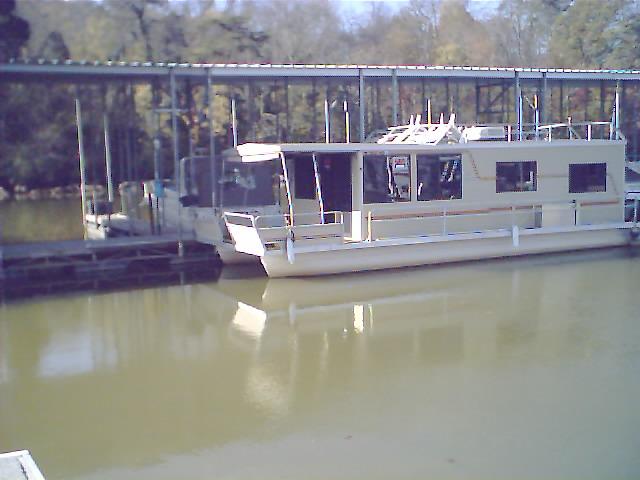 I think it's pretty cool!
It's got a 115 horsepower Mercury Outboard motor (can you say low maintenance?), 70 gallon fuel capacity, Gas/Electric refridgerator, two 20 lb propane tanks to run the stove-fridge-and water heater, 100 gallons of water storage, and my very own "head" with a shower stall and everything. The pontoons are a plus, as I don't have to worry about water coming into the "bilge", and they are foam filled, so even if I cracked one, I wouldn't have to worry about the whole boat sinking. The siding on the outside (while not the prettiest) is extremely low-maintenance, and this thing has been in a covered slip for most of its life so the roof is in great shape. There's even a five kilowatt generator on the back deck, so if I head for a cove I am completely self-sufficient. The only downside I see so far is that there are no heaters built into the vessell, so I'll have to use kerosene or ceramic space heater's in the winter. I can live with that.
I've even thought up a perfect name to christen her with...Water Closet. Suits my twisted sense of humor quite well I thought. Keep your fingers crossed for me out there, and I'll let you know when I get this boat.
Posted by Johnny - Oh at November 14, 2004 06:15 PM