Chagrin
Much as I hate to bitch about work (Pause to allow the guffaws of laughter to die down), I have to complain a little bit. It's not really the Job's fault per se, but the owners of the elevator's. We recently picked up a big contract to service all the elevators in the local teaching hospital, and we need to do a re-rope job on a few of their older ones. Unfortunately, they have this "thing" about shutting down a bank of elevator's during bidness hours, so we have to do the work as quickly as possible. Therefore we need to run two shifts. Guess which shift I got? Yep, the night shift.
Here's the bitch though. The night shift starts at 9:00 PM, tonight. Ugh. I've been running "wide open" all weekend, and now I have to go in and work until something like 5:30 or 6:00 in the morning. Stupid hospitals with their stupid elevators. Another thing that will be interesting about this job is that it is more complex than the last little one I just did. The one in Union city was roped "1 to 1", and these are roped "2 to 1". Since it's difficult to explain the difference without writing a full technical manual, I've decided to draw you a pitcher. (BTW the heavy blue line is a "rope")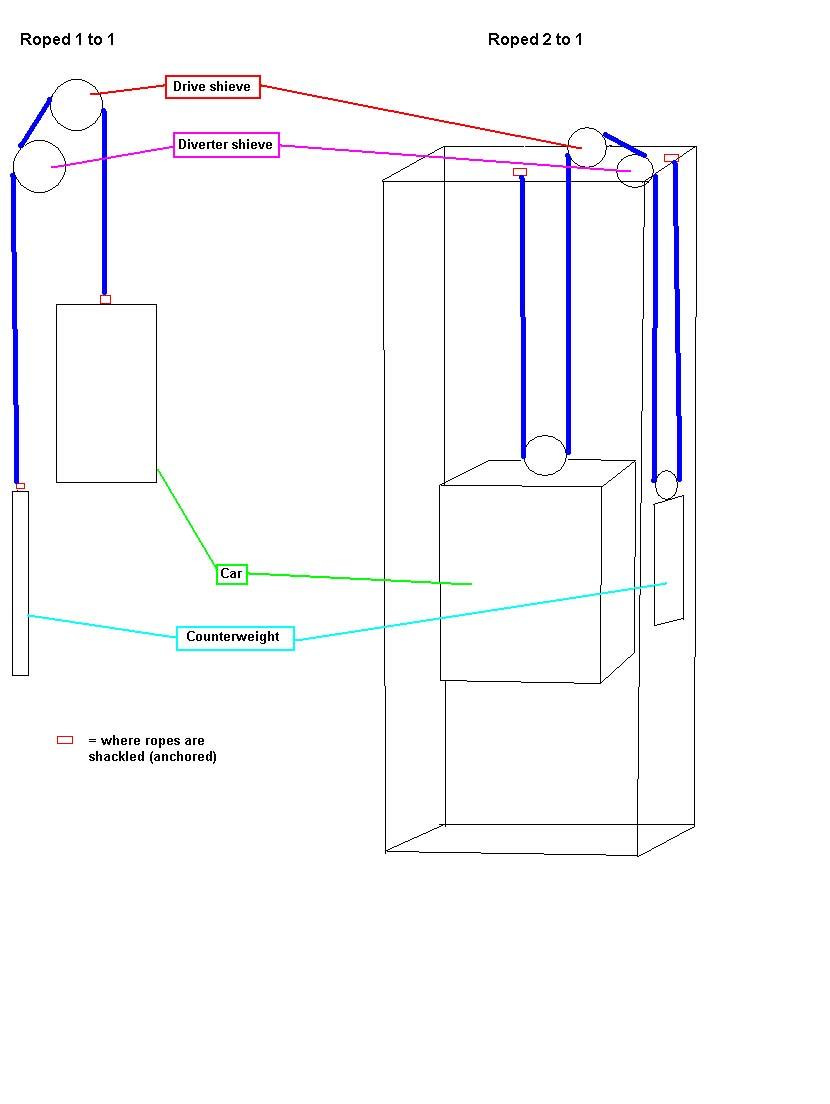 (click to enlarge)
As you can see, the "2 to 1" is a lot more complex thatn a simple "1 to 1". The five-stop in Union City used about 50 feet of rope for each strand (there is always multiple strands). If the eight-stop over at the hospital was 1 to 1 as well, we'd be using around 8o feet of rope per strand, but in the 2 to 1 configuration it will use around 400 feet of rope per strand. Times six ropes per elevator, times 3 elevators. I'm gonna be dealing with a LOT of wire rope. Ah well. I wanted to be an elevator man.
See you all in the morning.

Posted by Johnny - Oh at March 6, 2005 07:52 PM