See a pattern forming?
I just got back from the bar, where I was ensuring that I was limber for the blog crawl. Stretching is important. I've only had 2 tall beers (26oz), and one short one(16oz). Really, I'm fine. I just got set up at the chatroom that is set up just for the crawl, so hop on by if'n you get a chancet.
Anyhow, Happy crawling!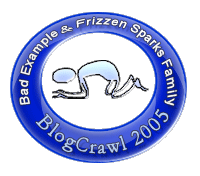 Posted by Johnny - Oh at July 30, 2005 07:41 PM | TrackBack