CPBLC Arsenal
Since I took an extra picture yesterday, I thought that I would share with you the photo of my Arsenal.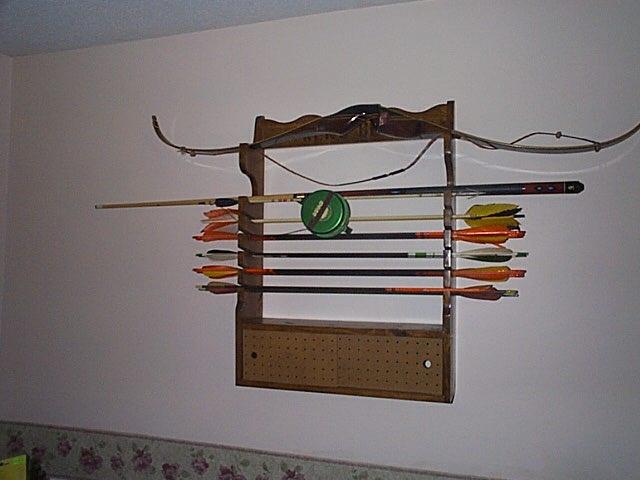 Impressive huh? Yes indeed friends what you see there is a recurve bow. I don't have any brand names or pull strength numbers to throw at you, as this used to belong to my Dad (who handed it down to me), but I can certainly tell you that shooting it is a completely different experience from shooting a compund bow. Yes I can still shoot it. I can even hit what I'm aiming at most of the time.
What the hell is that green round thing, you ask? Well that is a spool for "fishing line". The spool attaches to the bow, and the other end is connected to a barbed fishing arrow. So far I haven't had the opportunity to give it a try, but (after I check into the legality) I'd like to go up to Citico Creek and see if I can't "catch" me a trout with it.
What's That? Why it's a "two-piece custom-made pool cue" of course. Why is it in the Arsenal? Well, if you've never been "thumped" by the bidness end of a pool cue before, stop on by and I'll show you what that feels like. After you get out of the hospital, you'll understand why it's there.
Where can I get a spiffy bow rack like the one I see there? Well you can't. That rack was crafted by my very own hand. Custom made to hold the bow you see. I can't remember if it was 1987 or '88 when I made that in wood shop, but I don't really care. I still think that it's unnasailingy cool.
Posted by Johnny - Oh at June 18, 2004 11:03 PM