Blindness
Folks, for nearly as long as I can remember I have been legally blind. I have worn glasses since the first or second grade in school (when they figured out that I couldn't see the damn chalkboard).
Now you've all heard of the system of judging eyesight right? Twenty / twenty vision and all that. What the 20/20 means is that what you see at 20 yards is what the average person sees at 20 yards. My vision prescription (the last one I remember anyway) was twenty / four hundred and fifty. The effect this has on me is profound. Without my contacts, I can hold my hand two inches from the end of my nose and it is clearly defined. If I move it out to four and a half inches away, it is merely a color blob, along with anything wlse beyond that point.
Luckily for me, I am not color blind. If it weren't for the fact that I can discern one coloer from the next, then I wouldn't be able to go to the bathroom in the middle of the night without winding up pissing in the closet. Being blind sucks.
Back when I was in high school, my art teacher had implored me to paint what I see with my glasses off/contacts out. At the time I told her that I couldn't, and I still can't. You see, there is a certain graineyness to my vision without correction. The entire world is made of of dots of color that kind of run together. So tonight, I was horsing around with MS paint, and realized that I could approximate the effect by using the largest "spraycan" tool in MS paint. So without further ado, I bring you a sunset from a blind guy's POV.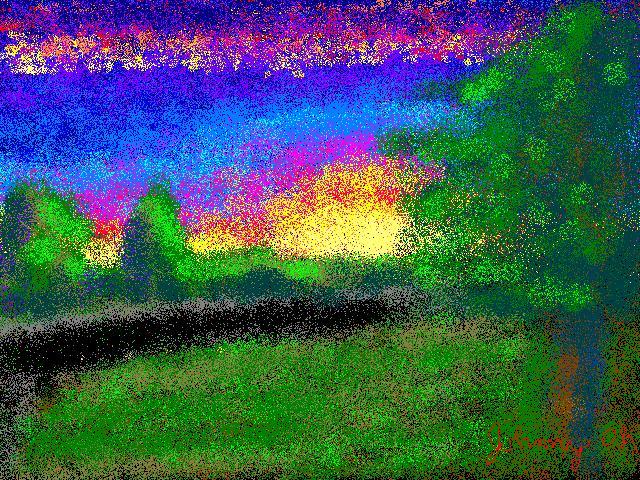 It's all about the perspective.
Posted by Johnny - Oh at June 23, 2004 10:31 PM