Living vicariously through my parents.
My cousin and his parents went on over to the 'Rents houseboat today, and they all went for a nice ride. Sadly, I had to work, so I wasn't able to join in the festivities, but I did get the chance to see them for about 45 minutes this afternoon. It was nice to visit for at least a little while. He'll be hading back down there either tomorrow or the next day. I hope he has a house left when he gets there.
Anyway, my Dad works for a large multi-national consumer electronics company, doing phone technical support for technician's actually fixing broken product. He was one of the guy's "actually fixing the product" more often than not over the last twnty-five odd years, so he's pretty frickin' good at his job, and makes decent money at it. Mom doesn't have to work, and they still are able to have a few nice things. Cool I say. They deserve it after raising three kids, and especially since one of them was me.
Since my Dad works for this big corporation, he is sometimes able to get a few "freebies" and/or "deep discounts" on some really cool stuff. This evening he presented me with such an item. It is about 3 inches long, by 1 inch wide, by 3/4 inch deep, and it's a digital camera/64 Mb digital storage device. Way cool! Plugs right into a USB port. The USB port allows the thing to charge up, and also act as another Hard Drive on the machine. Looks like I'll actually have a way to capture some special moments in my life for myself, as the previous pictures I've shown you have been taken by my roommate's digital camera. Now I can do it myself. Neato!
For most of my formative year's, we had very mundane vehicles. A few interesting ones, like the 14 foot poerboat that I learned to water ski behind, the pop-up camper that we used to to take family camping outings in, and the motorcycles that my Dad, Mom and I have owned. For the most part though, we've had transportaion that was just that. Transportation. Mostly van's and sedan's that could carry the five of us and the dog. Rudimentary. Utilitarian. Not without character, but you had to get past the utilitarian aspects to notice it. Meanwhile, this whole time my Dad has been dreaming of boats and sports cars.
So, included with the new camera were a few pictures of life at their place that I intend to share with you. The first two are of the living conditions at the latest homestead.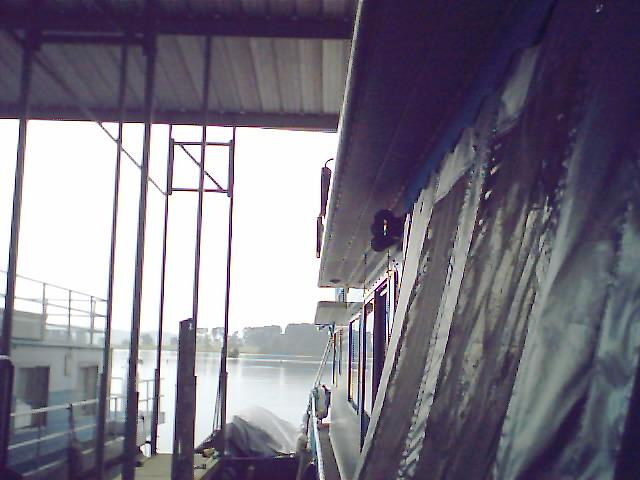 (click to enlarge)
This is the "Starboard side" of their house, looking from "bow to stern".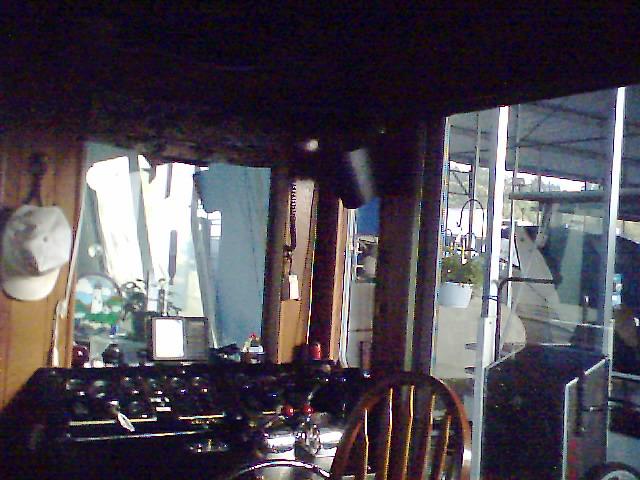 (click to enlarge)
Here's the controls in the "living room". There's a flybridge on top where they can drive the "house" as well. Pretty damn cool.
The rest of the pic's will be in the extended entry.
Like I said, my Dad has been dreaming of having a sportscar for as long as I can remember. He's lusted after Corvettes. He's dreamed of MGB's. He has just wanted something that would go fast and look cool doing it. Preferably a "two seater" just so he and his "best girl" can ride around in style. A couple of year's ago, he started out to get what he wanted and purchased a Chrysler PT Cruiser.
It was a decent compromise. A lot of style with a little bit of practicality. (That statement pretty much epitomises my Dad.) He got the Cruiser with a standard transmission, and very few amenities, but it was fun to drive, and it could haul a few things in the process. He decided recently that the Dodge Magnum would be better vehicle, as he was tired of changing the gears manually, and he wanted to get something a little newer and a little cooler. They had a bad experience at the dealorship, so he didn't bring one of them home.
Last weekend, I got a call from them out of the blue, and they said that they were going to drop by for a few minutes. I figured that they had gone to another dealership, and gotten a Magnum, so I sat out on the front porch and waited for one to pull up. I got a nice surprise when they pulled up in this: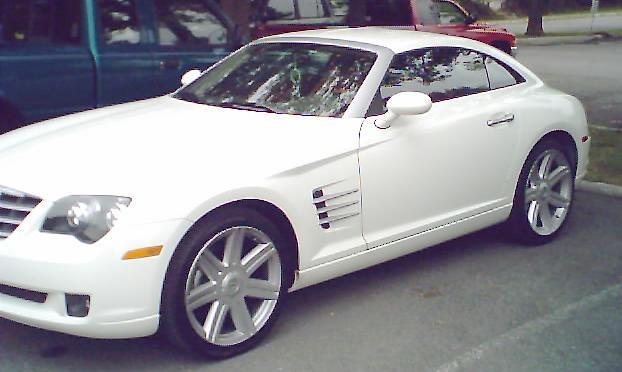 This is a Chrysler Crossfire.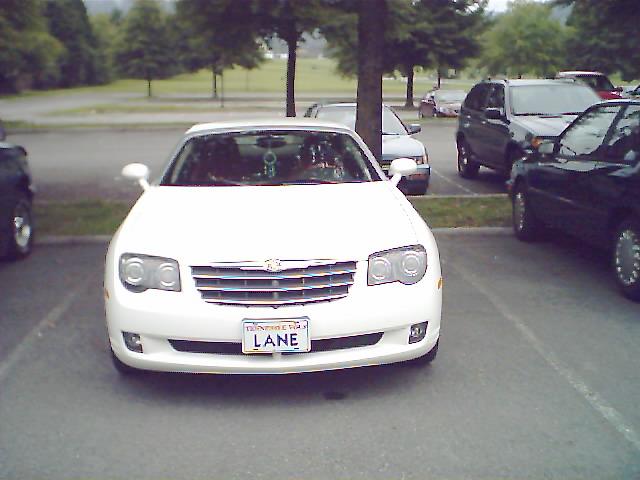 The "head on" view.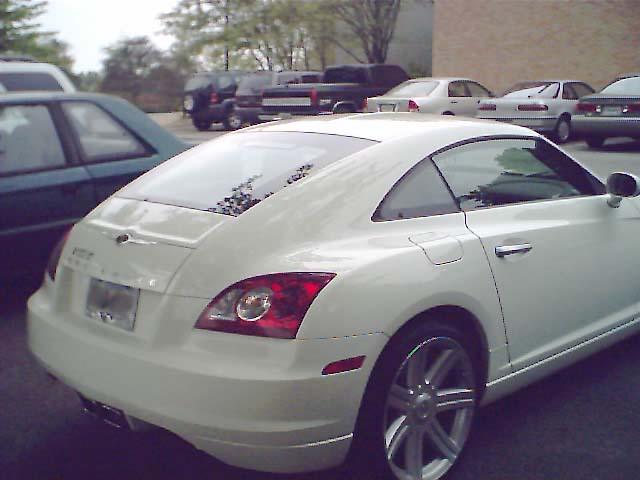 The little section just below the back window, and above the Chrysler "Wings" raises up to become a rear spoiler at 55 miles an hour. Neato!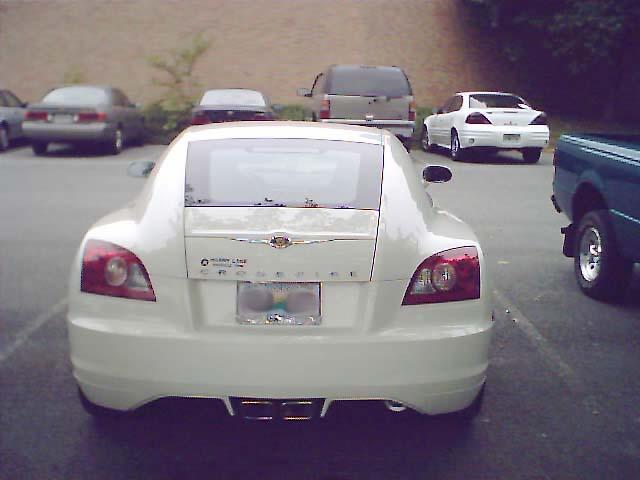 This is the view you can expect to see if it's out there on the road.
My Dad finally has his sportscar, and I'm just tickled to death for him. Be careful with this thing Dad, but not too careful. Gotta be able to have some fun with it too.

Posted by Johnny - Oh at September 6, 2004 12:02 PM